Yum
If you read this blog, you know that I'm always honest…These burgers were a combined effort between my mom and I. She wanted turkey burgers on the grill one night, I bought the turkey, she picked some herbs from her herb garden (the joys of being at your parents' house!) and I added the seasoning and grilled them. At the end, she insisted we top them with smoked gouda (I'd planned to use American cheese, like the peasant that I am, apparently), but decided to use some of her smoked gouda instead and it was a party in my mouth.
They came out so well that I knew I had to add them to the blog, but I wanted to make them even more exciting. What's more exciting than putting cheese on a burger? Obviously, putting it in a burger. And what's even better than putting smoked gouda in the burger…putting bourbon smoked gouda in the burgers….Hi, are you still there??? Or is your mind blown?
Why you should make Garden Herb Turkey Burgers Stuffed with Smoked Gouda
It's a burger…
…With garden herbs…
…And melty smoked gouda inside…
That's it. Those are the reasons.
Pro Tips/Things to Know About This Recipe:
Ground Turkey
I use 93% lean ground turkey, 7% fat to make juicer burgers.

While making the patties, I make sure that I'm working with cold meat (vs. room temp) which helps the meat stay together while making patties.

While mixing in seasoning and herbs into the turkey burgers, I mix just until fully combined, making sure not to overwork to meat to keep it from becoming too tight.

I love these burgers grilled, but you can do them in a pan as well.
Cheese
Of course, you can decide to use any cheese you want—I'm not here to tell you how to live your life. Other great options could be goat cheese, american cheese, munster, colby, monterey jack.

No matter what cheese you use, be sure to use 2 slices: 2 inches x 2 inches in the middle of the burger.

If there is a wax coating around the edge of the cheese, be sure to cut that off, as it will allow the cheese to melt better.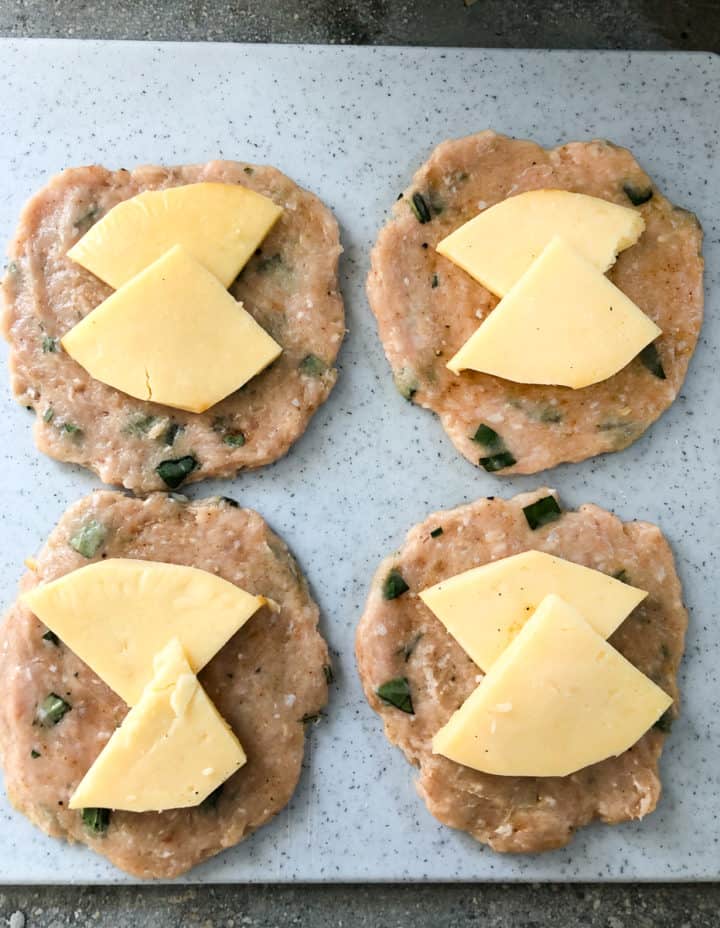 Herbs
You can use whichever herbs you like, but these were the herbs that we had on hand.

To chop your basil more easily, stack your leaves on top of each other and then roll them together length-wise before chopping horizontally across the basil leaves. This way you get relatively even pieces throughout, and honestly, it's just easier to manage. Once you've chopped horizontally across the leaves, keeping them in their form, chop them vertically down the center to make smaller, more manageable pieces that will distribute better throughout the burger.

To remove thyme and rosemary leaves, hold the top of the branch with one hand and run your index and thumb of the other hand down the branch in the opposite direction. Once complete, gather up and chop the rosemary leaves. Thyme leaves should be good as-is.
Making ahead of time
The other great thing about these burgers is that they can be assembled the day before and either cooked or reheated the next day. I suggest you assemble the patty the night before and grill or otherwise cook them the next day. These also keep fully cooked in the fridge for about 2-3 days, Just heat and eat!
Yield: 4 hamburgers
Garden Herb Turkey Burgers Stuffed with Smoked Gouda