Yum
I love a good potato salad—or potatoes in any form really—but mayo has never been my favorite condiment (the sound of stirring it alone—no thank you), so I've gotten creative with mayo-free ways to make it.
This Chimichurri Potato Salad with Roasted Corn is a fiesta in your mouth (lol I hate myself for including that just so you know) and it's the perfect side dish to serve with almost any meal .
Why you should make Cilantro Chimichurri Potato Salad with Roasted Corn
I'm pretty sure potatoes are everyone's favorite vegetable. Frying them makes them feel 'indulgent,' but putting them in something we call a 'salad' makes them into something that feels extra healthy. And nothing screams 'I ate vegetables today!' like adding something green on top. Plus an additional vegetable??? Pretty sure I'm good for the week after that.
Enter Chimichurri Potato Salad with Roasted Corn.
This accidentally vegan potato salad has all of the acidity and flavor of regular potato salad, and none of the mayo. The corn in the salad adds a touch of natural sweetness, which the herbs in the chimichurri give it a certain freshness, which for me, is noticeably absent in traditional chimichurri.
All of these things make it the perfect side dish to bring to gatherings, or pair with a protein of your choice on a random Wednesday night.
What Ingredients Do You Need to Make Cilantro Chimichurri Potato Salad with Roasted Corn?
There are three main components to making Cilantro Chimichurri Potato Salad: Cilantro Chimichurri, cooked potatoes and roasted corn. Here are the ingredients you'll need to make this salad.
Cilantro Chimichurri get the recipe here (or you can use the chimichurri recipe of your choice):
Parsley
Cilantro (though you can swap this out for another herb like basil, if you'd like)
Garlic
Red pepper flakes
Salt
Apple cider vinegar (this makes the chimichurri a bit sweeter than using the traditional white vinegar)
Limes/ lime juice
Olive oil
Potatoes
Corn
Corn on the Cob
Olive Oil
Salt
You don't need any special kitchen gadgets to make this recipe, but it could make your life easier to have a food processor or blender to make the chimichurri and maybe an Instant Pot to cook your potatoes, but you can just as easily cook them (and have more control over their tenderness) if you cook them in a traditional pot.
How Do I Make Cilantro Chimichurri Potato Salad with Roasted Corn?
There are 4 main steps to making Cilantro Chimichurri Potato Salad with Roasted Corn, and they're all pretty simple::
Make the chimichurri

—making your chimichurri first gives your flavors some time to marinate and marry together while you cook the other components of the dish.

Boil potatoes—until just tender
Roast the Corn—Cut your corn off of the cobb and roast in a pan with a little olive oil until toasted brown on both sides.
Combine—Combine potatoes, corn and cilantro chimichurri together while warm and set in the fridge to cool (or you can serve this salad warm if you wish).
Pro Tips/Things to Know About This Recipe:
Should I use Fresh Corn or Frozen Corn for This Salad?
You can use whichever one you like! In the Summer, I love to use fresh corn over frozen, but in the colder months, if fresh corn isn't readily available, it's fine to use frozen corn and roast it yourself, or, even better, find it pre-roasted!
What Kinds of Potatoes Are Best to Use for Potato Salad?
My answer to everything potato-related is almost always Yukon Gold. They have this beautiful buttery texture and flavor to them before you even add anything to them. In a salad that's light like this that doesn't have to hold up to mayo? Perfection.
That said, if you can't find them, Idaho or russet potatoes are fine too, just be sure to peel your potatoes ahead of chopping and cooking them.
How to Cook Potatoes for Potato Salad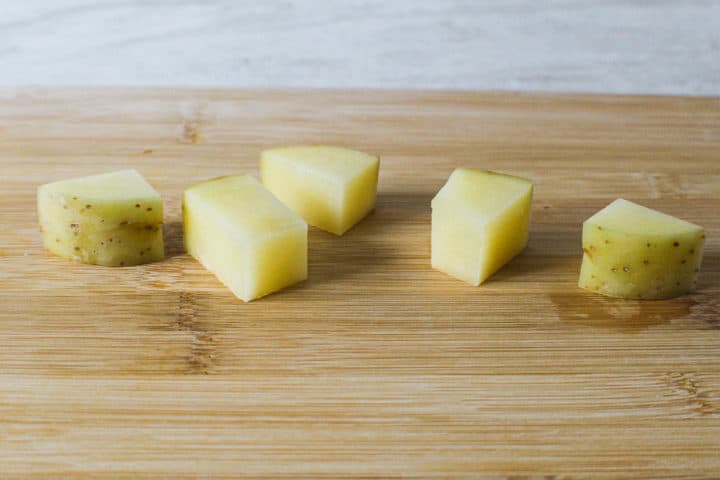 As I mentioned, for this recipe, you can cook your potatoes in an Instant Pot if you have one, but if you don't, you can always cook them in a traditional pot. Cooking them in a traditional pot, I've found takes about just as long (as the Instant Pot takes a minute to come up to pressure), and you can more easily keep an eye on the tenderness of the potatoes.
For this salad, you'll want to make sure that the potatoes are just cooked and as soon as they are, you will want to remove them from the water immediately. Even if you turn the stove off, the potatoes will continue to cook in the hot water and will absorb too much water, leaving you with a watery p sal. Yuck.
How to Roast Corn on a Stovetop
Roasting corn on a stovetop is way easier than it sounds.
Once the kernels are removed from the cob (if using fresh corn), put a teaspoon or so of olive oil in a nonstick pan on your stovetop and let the corn kernels cook, undisturbed, on medium heat for about 4-5 minutes.
After that, use a wooden spoon to move the kernels around in the pan and get them to roast on the other side. It's okay if not every Kernel flips over. It's not an exact science.
If you're using frozen corn, you may need to let the kernels cook on each side for 1 to 2 minutes longer as these kernels will have much more water in them and on them compared to fresh kernels.
Yield: 6 to 8 Servings When Served As A Part Of A Larger Meal
Cilantro Chimichurri Potato Salad with Roasted Corn
This potato salad is a lighter alternative to traditional potato salad with even more flavor!
Ingredients
Cilantro Chimichurri:
2 cups flat leaf Parsley
1 cup Cilantro
3 garlic cloves
¼ teaspoon red chili flakes
1 teaspoon salt
1 teaspoon ground pepper black pepper (fresh)
3 tablespoons apple cider vinegar
1 lime (juiced)
¼ cup extra virgin olive oil
Potatoes:
2 cups water
2 tablespoons sea salt
4 medium-sized Yukon Gold potatoes
Roasted Corn:
2 corn cobs
1 tablespoon sea salt
2 tablespoons of olive oil
Instructions
Make Chimichurri
Separate cilantro and parsley leaves from stems and remove bottoms from garlic. Use a food processor, blender or sharp knife to mince cilantro, parsley and garlic. Once done, place ingredients into a small to medium-sized mixing bowl, add remaining Chimichurri ingredients, and stir to combine before setting aside to rest.
Boil Potatoes
Wash, dry and cube potatoes into about 1 inch by 1 inch pieces (it's okay if they're not perfect).
If using a traditional pot: bring 2 cups of water seasoned with 2 tablespoons of sea salt to boil. Add potatoes and continue to cook on high-medium heat just until potatoes are tender (about 15-20 minutes). If using an Instant Pot or other pressure cooker: follow the instructions to cook potatoes until just tender (do not want potatoes to be too mushy as they will fall apart as you're combining with other ingredients later.
Once potatoes are tender, drain immediately and set aside in a dry bowl or the empty pot.
Roast Corn
While potatoes cook, shuck and wash corn. Cut kernels off cob by holding corn cob vertically on a cutting board and passing knife down the side of the cob to cut the kernels off as close to the cob as possible.
Heat olive oil in a large (preferably) nonstick pan and add corn kernels. Allow kernels to cook for about 4-5 minutes over medium-high heat per side. If kernels are browning too quickly, turn down heat. Once browned, use a wooden spoon to brown on the other side. Once cooked, remove from heat.
Combine
Add potatoes, corn and chimichurri to a large mixing bowl and use a rubber spatula or salad servers to gently combine. Serve warm, or chill in fridge until cold (about 3-4 hours).
Notes
Be sure to remove potatoes from water immediately after they have cooked to keep them from absorbing too much water and becoming mushy and soggy.