Yum
Honestly, I've never met a strawberry I didn't like, but when it came to desserts, white chocolate covered strawberries never seemed as exciting to me as milk chocolate. When I discovered that I had a food sensitivity to cocoa, I was devastated, obviously, and then I was resigned to making non-cocoa desert options taste as flavorful and exciting as possible, et, voila—spiced white chocolate strawberries were born. The spiced coating almost reminds me of a mix between creamy horchata and Mexican hot chocolate, and when combined with the fruity sweetness of a juicy strawberry—to die for. I tested this on some hard-core chocolate lovers, and can confidently say this recipe is a crowd pleaser, no matter your chocolate affinity.
Why you should make White Chocolate Covered Strawberries
This is another one of those recipes that's fast and fool proof, but somehow still feels like you put in a lot of effort. As long as you have access to strawberries, white chocolate chips, and few standard spices, you can make these. Also, the spice mixture makes these strawberries taste extremely decadent. It's basically like you're eating fruit salad for dessert, right? Right. Win-win!
Additionally, the heavy cream makes for a creamier almost ganache-like coating that hardens like regular chocolate-covered strawberries, but doesn't shatter when you bite into it (meaning you're not left with a naked strawberry after your first bite).
These strawberries are perfect for those social distancing picnics we're likely all going to this summer (because, especially if you live in a big coastal city, the majority of your normal gathering places are still closed). Because these are finger foods, you don't need to worry about bringing special plates or utensils to eat these, so you can live out your environmentally conscious dreams, plus, when you're done, just throw the leaves in the trash—no crazy clean up!
How to Pick Strawberries for White Chocolate Covered Strawberries
When buying your strawberries, be sure to pick large, ripe ones. No matter how much white chocolate you use, no amount is going to cover up a hard, tart strawberry.
How to Wash Strawberries for White Chocolate Covered Strawberries
When washing your strawberries, be mindful that strawberries soak up a lot of water very easily, so instead of rinsing them directly under a faucet, a better way to wash your strawberries is individually with a wet paper towel.
Before working with your strawberries, be sure that they are dried completely.
What White Chocolate Is Best to Use for White Chocolate Covered Strawberries?
The best white chocolate to use for strawberries is high-quality baking chocolate, or white chocolate chips. Because this recipe is so reliant on the chocolate, it will be immediately evident if the quality isn't very good.
How to Spice White Chocolate for Strawberries
The spice mixture in this recipe can be altered however you like, meaning if you don't like nutmeg, or you're not a fan of chili powder, feel free to omit it. That said, the chili powder. I used was not spicy, and served more as a savory element to balance the sweetness of the strawberry and white chocolate. The only word of caution would be to add additional spices beyond the measurement below in pinches (especially the clove which can be particularly strong), as you're working with such a small batch of white chocolate that it is easy to completely alter the flavor with just a small amount of seasoning.
How to Store Spiced White Chocolate Covered Strawberries
Strawberries should be stored in the fridge up until you are ready to serve them to keep the coating from melting or becoming sticky. Because strawberries don't last very long, and the sugar from the coating will bring out the liquid from the strawberry, they should be eaten within 24 hours from making them, though ideally same day.
Yield: 12 Strawberries
Spiced White Chocolate Covered Strawberries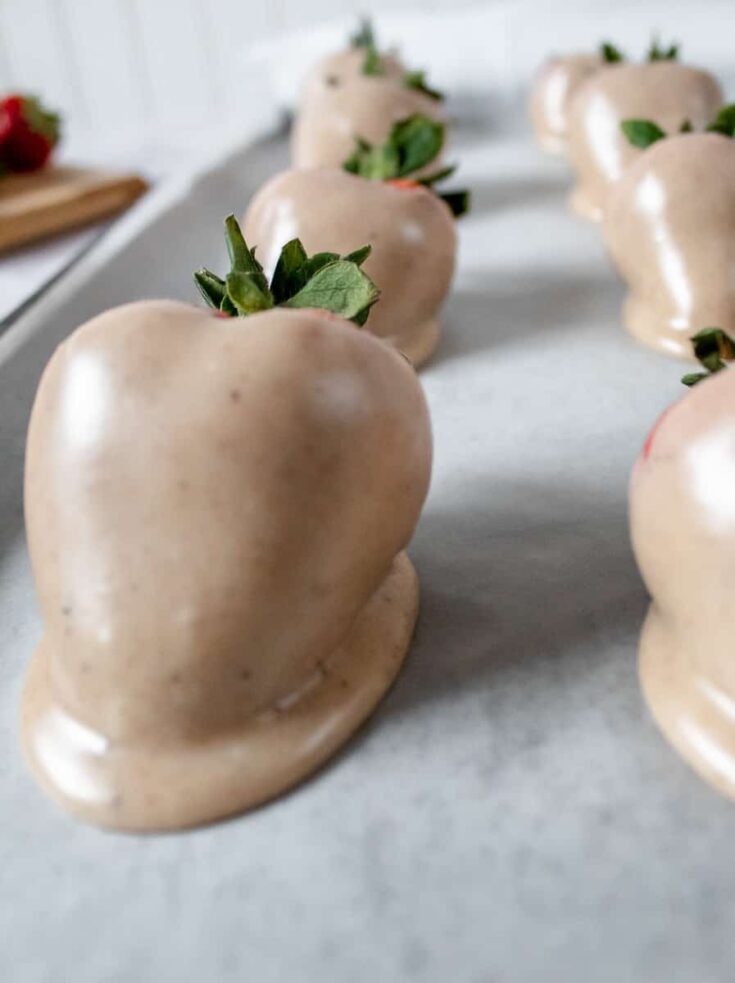 White chocolate covered strawberries can be so boring I'm pretty sure I once fell asleep eating one. This recipe will wake up your taste buds with a complex spice mixture that make them perfect for summer picnics.
Ingredients
1 pound package of strawberries (about 12-13 medium-large)
1 cup of white chocolate chips
3 tablespoons of heavy cream (divided)
¼ teaspoon of cinnamon
1 pinch cloves
1 pinch nutmeg
1 pinch chili powder (optional)
Instructions
Wash and dry strawberries. Set aside.

Prep a baking sheet with wax or parchment paper.
Melt your white chocolate. Fill a small microwaveable bowl with white chocolate chips and 2 tablespoons heavy cream. Microwave for 20 seconds. Mix with small spoon to combine, add 1 more tbs of heavy cream and microwave for 20 seconds. Remove and whisk to combine heavy cream and white chocolate together. Result should be a smooth, thick white sauce.
Add spices. Add cinnamon, nutmeg, cloves, chili powder. Stir to combine and taste. Add additional spices as desired (recommend to start one pinch at a time).
Dip strawberries. Cover strawberries in melted white chocolate by dipping and rolling in chocolate to coat all sides. Remove from chocolate, and dip again for a thick coating. Place strawberries on prepared baking sheet and repeat until all chocolate is gone.
Once all strawberries are on baking sheet place into freezer for about 20 minutes to allow coating to harden. After 20 minutes, remove and enjoy. If you do not plan to eat strawberries immediately, place into fridge until ready to consume. Consume within 24 hours.