Yum
About half way through each Thanksgiving, I don't even want to look at my oven, let alone spend hours just to make dessert. No—instead I'm giving myself a break with dessert this year, and you should too.
Pumpkin Ice Cream Pie tastes just like the real thing, but instead, this one uses just 8 ingredients, goes from prep to freezer in about 20 minutes (no ice cream machine needed), and you can still say it's entirely homemade. Reclaim your time (and your oven…and your fridge space…) with Pumpkin Ice Cream Pie!
Why you should make Pumpkin Ice Cream Pie
Save yourself time day of:

this pie can be made days in advance, and kept in the freezer until ready to serve.

No Ice cream machine necessary:

The ice cream in this pie uses a simple, no-churn recipe with minimal ingredients!

Save oven and fridge space:

The only prep after assembly happens in the fridge.

Pie, meet ice cream:

Just kidding—it's already a legendary combo, but just combined in one!

Only 8 simple ingredients:

and can still be considered homemade, so you still get all the bragging rights.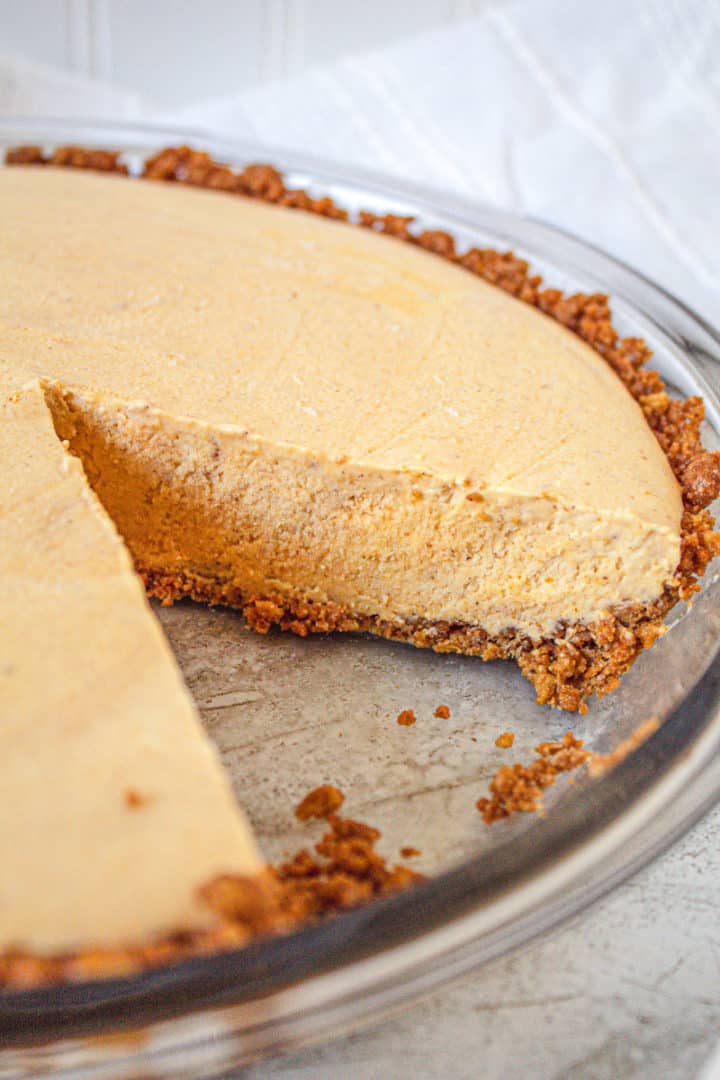 What Ingredients Do I Need To Make Pumpkin Ice Cream Pie?
Heavy cream

Sweetened condensed milk

Pumpkin puree

Pumpkin pie spice

Vanilla extract

Salt

Cinnamon sugar graham crackers

Creamy almond butter (can be substituted for another nut or seed butter)
How Do I Make Pumpkin Ice Cream Pie?
I swear it's easier than getting out of going to Thanksgiving this year:
Combine all ingredients in a large mixing bowl

Turn your hand or stand mixer on low-medium speed for about 1 minute. Then slowly turn up speed and continue to whip ingredients until stiff peaks form

Serve (…See! I told you!)
What if I don't have Pumpkin Pie Spice?
If you don't have pumpkin pie spice, you can easily make your own. See my Apple Cake recipe to find out how.
What are the best Plant-based butter substitutes for this pie base?
You can use pretty much any creamy-textured butter. Read more about the best nut butters to use for this crust recipe here.
What can I serve Pumpkin Ice Cream Pie with?
The beauty of this pie is the ice cream is already built in—so it's great on its own! But, if you're a pie-topper like me, a slice of this goes great with this Drunken Whipped Cream.
What kitchen tools do i need to make this recipe
The good news is…not many! There are some tools that are necessary to make this recipe and some that just make things extra easy.
Essential tools:
Pie plate (of course)

Measuring spoons (for measuring ingredients…or you could just eye it, honestly, if you feel comfortable)

Measuring cups (for measuring ingredients and for forming the pie crust in the plate)

1 large mixing bowl (for making whipped cream)

1 whisk (for whipping cream and sweetened condensed milk mixture)

1 large spoon (for scooping ingredients between bowls)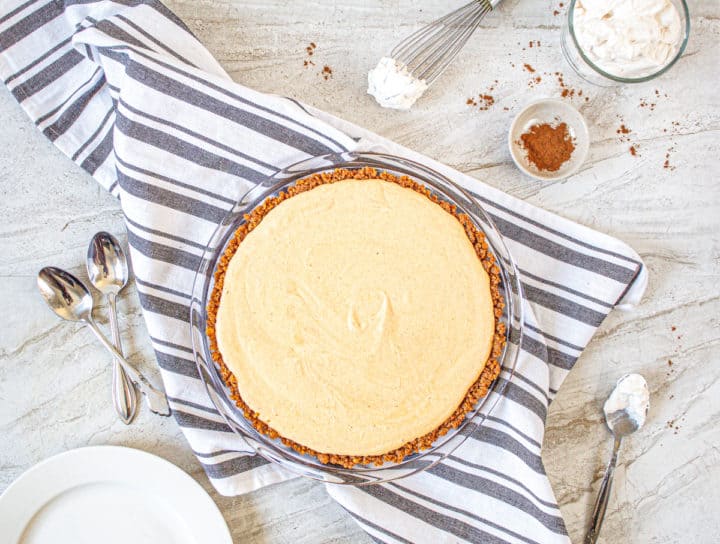 Nice to have tools:
A hand-mixer or stand mixer (to make whipping the cream easier)

A rubber spatula (to simply fold in the cheese…errr…whipped cream)
Yield: 8 Servings
Pumpkin Ice Cream Pie
The perfect pie for when you can't stand to open your oven one more time this holiday season.
Total Time
4 hours
25 minutes
Ingredients
For the Crust
1 ½ Cup cinnamon sugar graham cracker crumbs
⅓ Creamy almond butter (can be substituted for another nut or seed butter)
For the Filing
1 14 oz can sweetened condensed milk
1 Cup pumpkin puree
1 teaspoon pumpkin pie spice
2 teaspoons vanilla extract (I like using bourbon vanilla extract)
1 teaspoon salt
2 cups Heavy Cream
Instructions
Make Crust
Make your crust. Combine graham cracker crumbs with your almond butter (see notes below for more info on alternative plant-based butters you can use for this recipe).
Pour into a 9 inch pie pan and use a measuring cup to flatten crust evenly against the bottom and sides of the pan before setting aside.
Make Filling
Combine sweetened condensed milk, pumpkin puree, pumpkin pie spice, vanilla extract and salt in a medium-sized mixing bowl and set aside.
Make whipped cream in a large mixing bowl using a hand mixer, stand mixer, or whisking by hand, whipping until stiff peaks form.
Fold in three large scoops of sweetened condensed milk mixture using a large wooden spoon, or rubber spatula. Repeat, folding very gently until all whipped cream and sweetened condensed milk is combined.
Pour mixture into the pie crust
Freeze
Freeze for about 4 hours, or until thoroughly frozen before serving, being sure to keep the pie level at all times until frozen.
Notes
This recipe does make excess filling to make for easier measurements, so you could either make 2 pie crusts and split filling evenly, or, keep extras in a container to enjoy separately.