Yum
For this recipe, 1 box of cinnamon graham crackers and 1 jar of nut butter will help get you on your way to eating your own homemade pie in no time—no oven required. Perfect for no bake pie recipes!
Why you should make Two Ingredient No Bake Pie Crust
As you might guess from the words "two ingredient" and "no bake," this crust is insanely easy to make. But not only is it easy, it is also simple to assemble—meaning you don't need any fancy cooking equipment, and assembly is fast.
Another benefit of using this graham cracker crumb crust is that everything is assembled at room temperature. Many other crumb crust recipes require melted butter, which means that many times, you'll need to cool the pie crust before you add your fillings—especially if you're making a no bake recipe, such as banana cream pie or an icebox pie—and ain't nobody got time for that right now, so just spare yourself the trouble.
And as if it couldn't get any better, this recipe is incredibly versatile in more ways than one. This recipe can be used in place of any pie recipe that calls for a crumb crust (yes, even if it has to be baked), AND you can use any type of nut/seed butters or graham crackers as long as they're coated in sugar! I honestly can't think of any downsides of this recipe.
Pro Tips/Things to Know About This Recipe:
As we already mentioned, this recipe is only two ingredients, so it's important to get the right ones, though, luckily, this recipe allows for lots of flexibility and customization! Read on to understand more about what you can do to make this recipe your own.
Why this recipe works
Many crumb crust recipes call for 3 main ingredients: graham crackers, sugar and butter. Once it solidifies, the butter works to hold the graham cracker crumbs together, and the sugar adds a little extra sweetness that the graham crackers can lack—especially when combined with the butter and the sweetness of pie filling.
In this recipe, the nut/seed butter acts as the bonding agent, and because the cinnamon graham crackers are already covered in sugar, there's no need to add more!
Can I bake it?
Yes. Just like any other crumb crust recipe, this too can be baked (but, like, do you really want to turn on that oven?)
Types of Graham Crackers to use
Again, you can use any sugar-coated graham cracker you want—as long as there's enough sugar. This means you can even use chocolate graham crackers.
How to Make Graham Cracker Crumbs
You can make graham cracker crumbs in one of two ways:
In a food processor:

You can break them into halves, and pulse the crackers in a food processor for a few seconds until the crackers have become crumbs

The old-fashioned way:

You can put the crackers into a large (gallon-sized) resealable plastic bag, seal the bag and use a rolling pin or the back of a wooden spoon to crush the crackers. If using this method, you will want to make sure that you are working on a hard, sturdy surface, and I always do this on a cutting board for easy cleanup in case the bag starts to break.

For these recipe pictures I used the old fashioned way because I didn't feel like taking out my food processor. So, if you do use the food processor, you will likely have more fine crumbs than appear in these pictures, if that's a concern.
Nut/Seed Butters to use
You can use any nut or seed butter as long as it has a similar consistency to creamy peanut butter. I actually used homemade almond butter that I made extra creamy for my crust because I have a peanut sensitivity, and it worked great!
You can use salted or unsalted nut butter—but personally I prefer salted to add a little balance to the sweetness of the graham crackers.
The best fillings for this crust
Flavor-wise, naturally, anything that would go well with nuts or seeds would to well with this pie crust.
Texture-wise, puddings, custard and whipped cream-based recipes (banana cream pie, chocolate cream pie, etc.) will hold up best with this crust because they have mostly light fillings and even weight distributions, unlike fruit-filled pies (exceptions include a fruit tart type of recipe that have a custard bottom and fruit on top.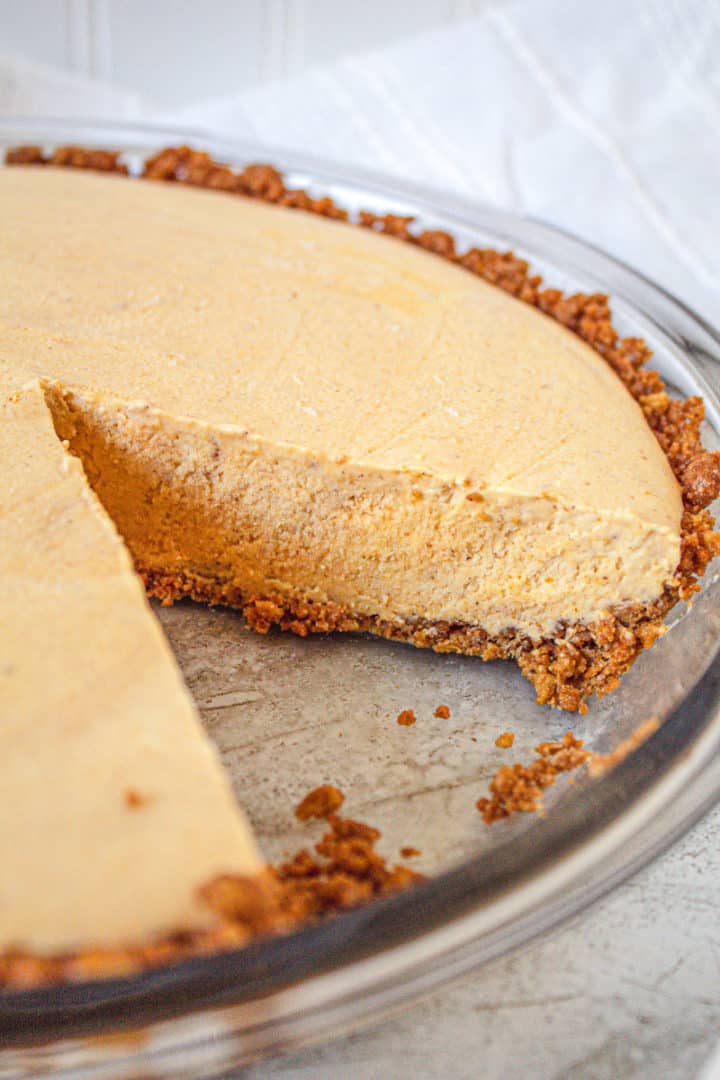 Variations & Substitutions:
You can use a number of variations in the seed.nut butter and the cookies without having to tweak the recipe :
Cookies:
Speculoos cookies
Chocolate graham crackers
Nut Butter:
Peanut butter
Almond Butter
Cashew Butter
Nutella

Sunflower butter
Yield: 1 Pie Crust
Two Ingredient No Bake Pie Crust
For this recipe, 1 box of cinnamon graham crackers and 1 jar of nut butter will help get you on your way to eating your own homemade pie in no time—no oven required. Perfect for no bake pie recipes!
Ingredients
13 cinnamon graham crackers (26 halves)
6 tablespoons salted almond butter (creamy, about ⅓ of a cup)
Instructions
Crush graham crackers using a food processor or the old fashioned method (see details on both methods above).
Combine Crackers and seed/nut butter. In a large bowl, measure out 1 ½ cups of graham cracker crumbs. Add 5 tablespoons of your seed or nut butter to the graham crackers and using a fork, or your hands for best results, mix to fully combine.
Build out your pie crust. Dump your graham cracker crumb and seed/nut butter mixture into your pie tin. Use the back of a measuring cup to press the mixture to the bottom and sides of the tin to form a pie crust.
Fill pie crust with the filling of your choice and serve.
Notes
Can use any kind of seed or nut butter in about equal amounts as long as it's creamy