Yum
Buffalo-flavored foods are my favorite game-time snack whenever I'm forced to watch sports. So, I made these buffalo cauliflower sliders with a celery, blue cheese relish. I also swapped out the white vinegar for apple cider vinegar in the buffalo sauce and served them on Hawaiian rolls, so they're slightly sweeter than your average slider. The best thing about these is that these are great to serve at any party because they're small and easy to assemble.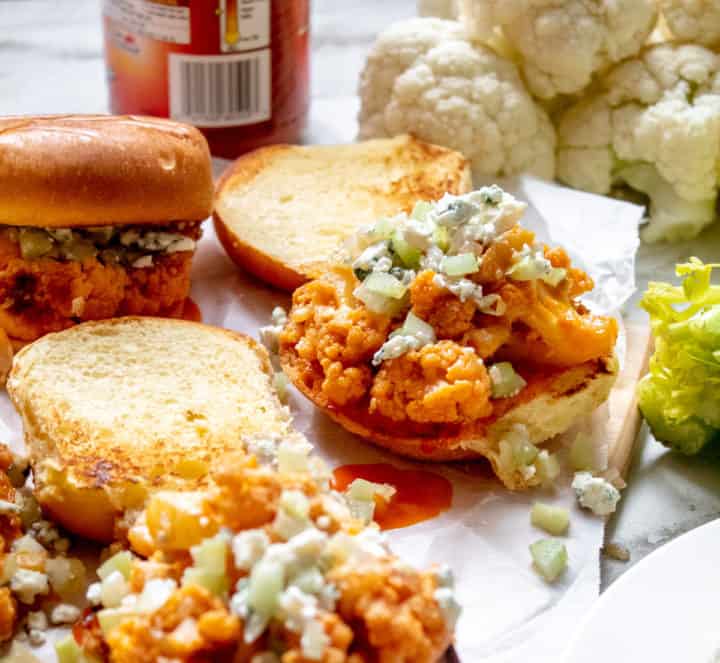 Why Make Buffalo Cauliflower Sliders
If you haven't noticed by now, I'm a huge lover of comfort food, but also a desire to feel somewhat good about the food choices I make. That said, I'm a huge lover of buffalo chicken, but sometimes I want something a little lighter, especially when I know I'll be in a setting where I'll be eating a lot of different things—like a party! That said, these are perfect to serve everywhere from Superbowl parties to fourth of July cook outs, and your guests can still get all the flavor without having to feel too sluggish afterward.
What ingredients do I need to make Buffalo Cauliflower sliders?
Hot sauce

Salted butter

Apple cider vinegar

Worchestire sauce

Cayenne pepper

Cumin

Garlic powder

Cauliflower

Olive Oil

Water

Sea salt

Celery

Blue cheese

Shallot
Pro Tips
Buffalo Sauce
There are a number of hot sauces that you can use. I usually try to use Red Hot brand, personally, because I feel that it gives me the most classic buffalo flavor, but you can use any hot sauce you want really. In this recipe, I also use apple cider vinegar instead of regular vinegar. The slight sweetness compared to regular vinegar pairs well with the sweetness in the Hawaiian roles. For butter, you can choose to use salted, or unsalted, just make sure that you taste the sauce before you add the salt at the end.
Cauliflower
For this recipe, I used fresh instead of frozen cauliflower. Part of the reason for that is I find that it retains more water, which leaves it with a more mushy, less roasted texture compared to fresh cauliflower. The other reason I only use fresh is because I prefer to only use the cauliflower crowns, as they can be especially tender in comparison to the stems, and the frozen packs typically include cauliflower crowns in addition to stems. When using fresh cauliflower, you can also save the stalks to make cauliflower rice for another recipe—so to me it's really like a two-for-one deal.
Relish
The tip for making relish that stays put on such small sliders is to make sure that all pieces are similar sizes, and that they are all cut very small, except for the cheese. Crumbling the cheese is the best way to prepare it so that the crumbles stay together instead of crumbling further in the relish. That said feel free to change the ratio of celery to cheese and shallots based on your personal preference.
Yield: 8 Sliders
Buffalo Cauliflower Sliders
A lighter alternative to one of American's favorite game-time snacks.
Ingredients
⅔ cups of hot sauce
½ cup of salted butter (1 stick)
1 ½ tablespoons apple cider vinegar
¼ teaspoon of Worcestershire sauce
¼ cayenne pepper
¼ teaspoon garlic powder
¼ teaspoon cumin
2 tablespoons of olive oil
1 head of cauliflower, chopped into small-medium florets
¼ cup of tap water
½ teaspoon sea salt
1 ½ tablespoon of shallots, minced
½ teaspoon olive oil
2 stalks of celery, chopped
⅓ cup of blue cheese crumbled
Slider buns
Instructions
Make buffalo sauce by combining all ingredients in a saucepan. Cook on medium-low heat until all butter is melted and sauce is simmering. Once sauce is simmering, turn off burner, stir briefly again and save for later.
Make cauliflower. Heat olive oil in non-stick pan on medium heat. Add cauliflower (toss briefly to coat), cook with lid on for 5 minutes, stirring and adjusting heat as needed to prevent burning. Once olive oil is mostly absorbed, add tap water. Cover to continue cooking until tender (5-6 more minutes). Cauliflower is done when it can be easily punctured by a fork. Cover cauliflower in buffalo sauce, cover with lid and set aside.
Make Relish. Add ½ teaspoon olive oil to a small nonstick pan. Add shallots to pan and cook on medium-low heat until translucent. Mince celery and use clean hands to crumble blue cheese into small bits. Combine all ingredients in a small bowl and set aside.
Assemble and serve. Place buffalo cauliflower and relish on Hawaiian roles (toast first if desired). Serve hot.
Nutrition Information:
Yield:
8
Serving Size:
1
Amount Per Serving:
Calories:

189
Total Fat:

17g
Saturated Fat:

9g
Trans Fat:

0g
Unsaturated Fat:

7g
Cholesterol:

35mg
Sodium:

331mg
Carbohydrates:

6g
Fiber:

2g
Sugar:

3g
Protein:

3g
Nutrition information is a rough estimate.